End of political cartoons at The New York Times: The overwhelming response
[Updated Sept 20, 2019] The response to the essay I posted on Monday, June 10 2019, "The end of political cartoons at The New York Times" has been vigorous, global, thought-provoking – and also a bit overwhelming. This is opening up a whole conversation on freedom of expression, the media and social media. We'll need to come back to it. (As someone noted: "Funny, you are denouncing the internet mob and just raised one"… A mob against the mob?) Below is a non-exhaustive list of press articles, comments and blog posts published over the last week, and a selection of the many cartoons made by colleagues worldwide. Stay tuned.
Chappatte responds to The NYT ending political cartoons in a TED talk, July 2019
The New York Times confirms the news – June 10, 2019
CNN: "Critics bemoan NYT's decision"- June 10, 2019
The Washington Post: "NYT cuts all political cartoons" – June 10, 2019
The Hill: "NYT to stop publishing political cartoons" – June 10, 2019
The Daily Beast: "Jake Tapper: One more nail in coffin of struggling art form" – June 12, 2019
San Francisco Chronicle: "Don't mess with editorial cartoonists!" – June 13, 2019
NPR Weekend Edition: Chappatte interview – June 15, 2019
Front page and dossier in French daily Libération, with a Chappatte interview – June 21, 2019 > READ IT IN ENGLISH
A portrait in France's Le Monde magazine – June 29, 2019
Israel's Haaretz dedicates the cover page of its arts supplement and a 2-page story to the issue – July 28, 2019
Statements by the AAEC Board of Directors, PEN America, the National Cartoonists Society and Cartooning for Peace.
Essays by cartoonists Kal, Ann Telnaes, Matt Davies, Joel Pett and (in French) Vadot, Kianoush, Kichka.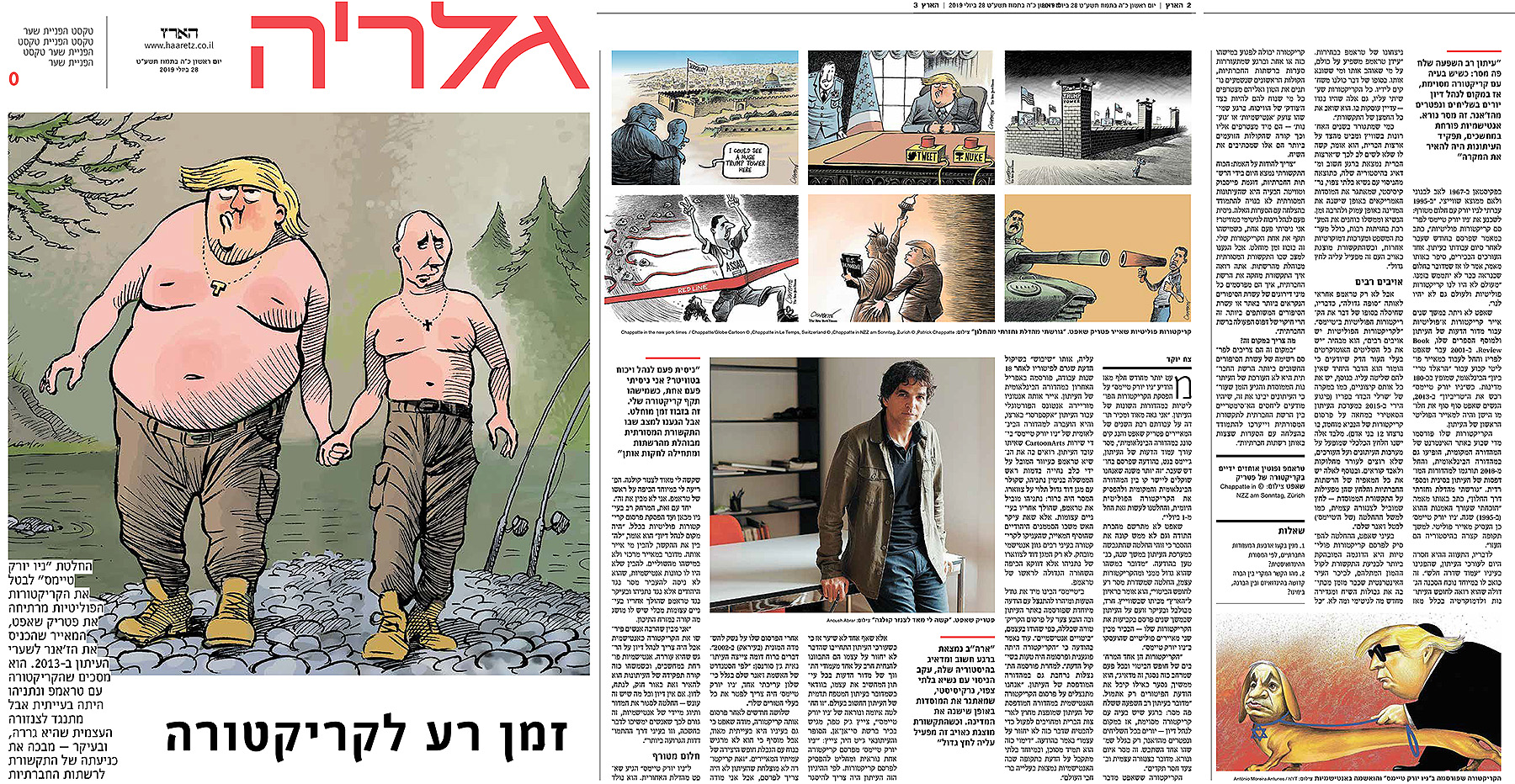 Cover page of Israel's Haaretz arts supplement, July 28, 2019 – © Cartoon by Chappatte
Front page of Libération, Paris, June 21, 2019 – © Cartoon by Chappatte
Sample of editorial cartoons (Copyright: the authors):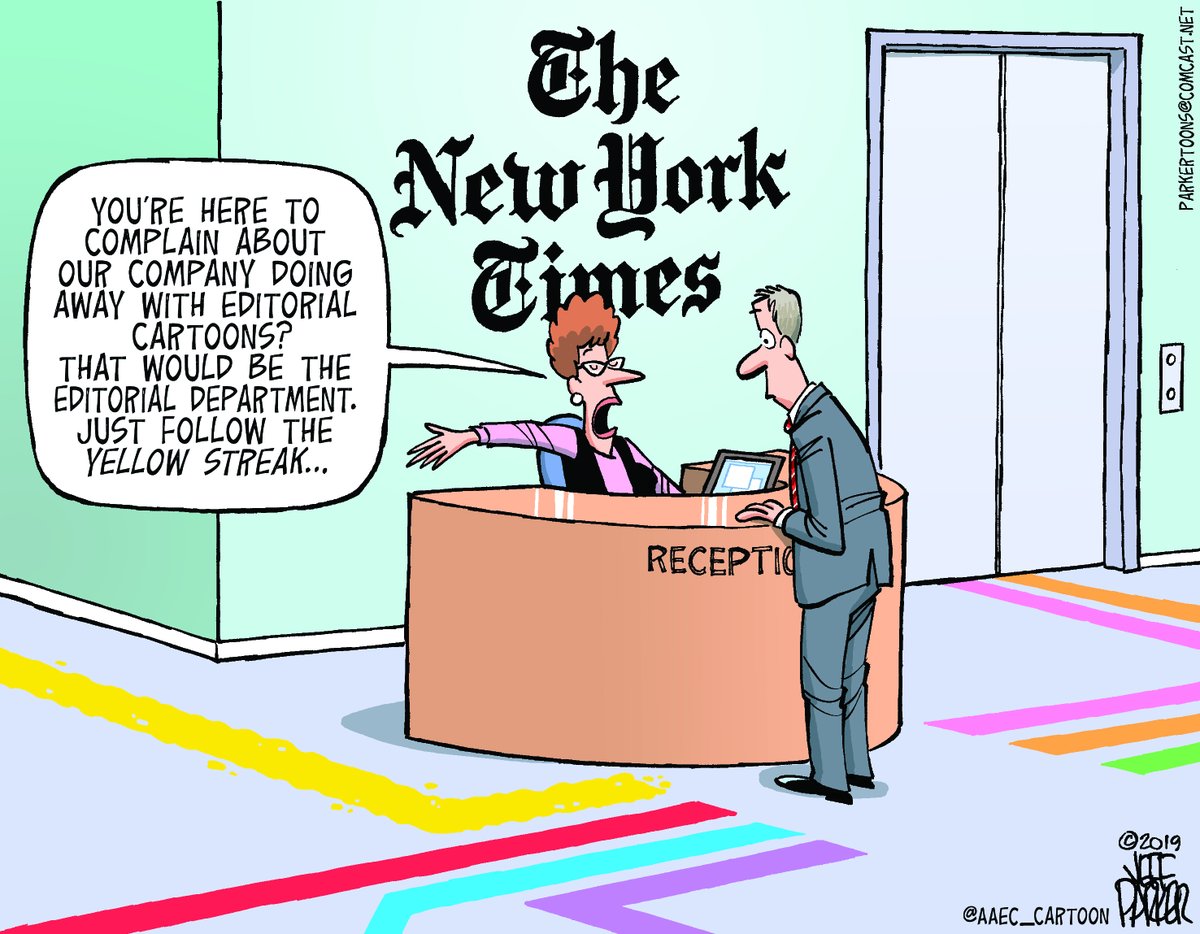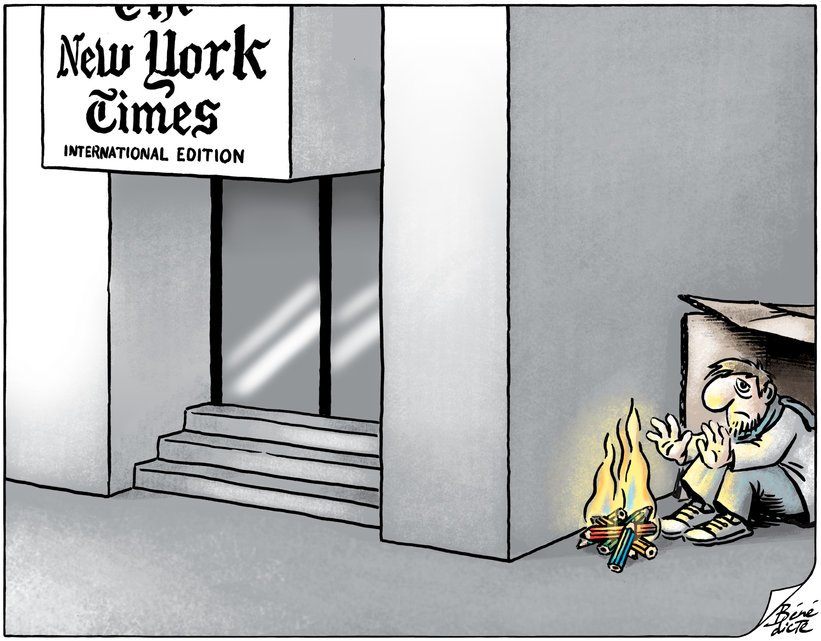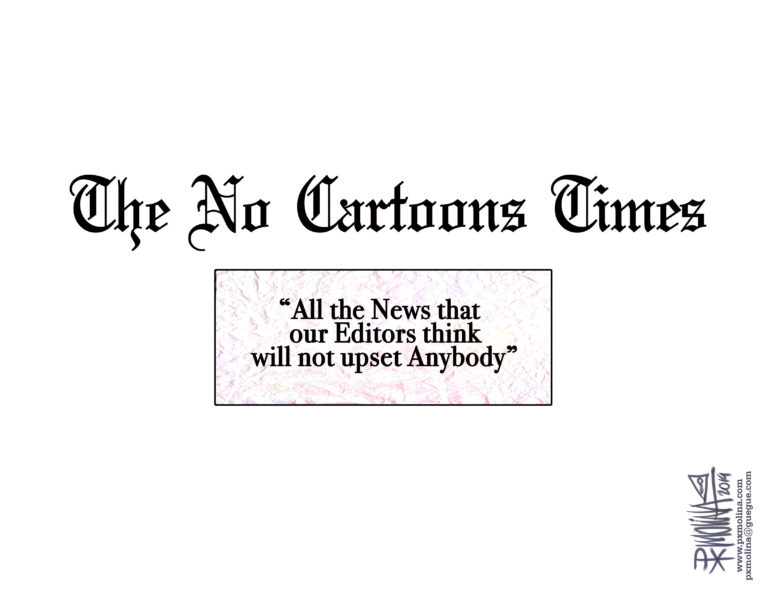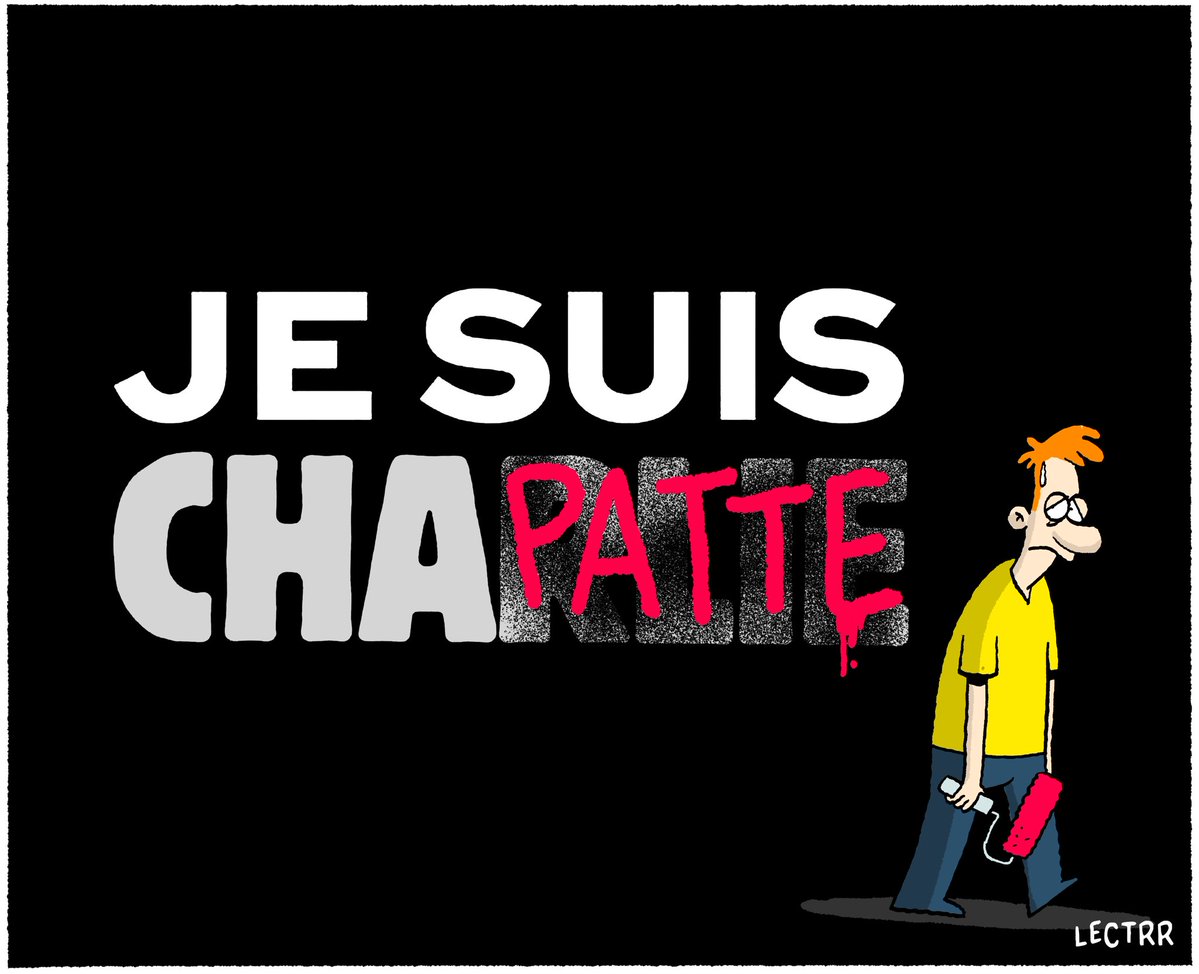 © Cartoons by Jeff Parker, Ann Telnaes, Benedicte, Falco, Pedro Molina, Kal, Schaad, Lectrr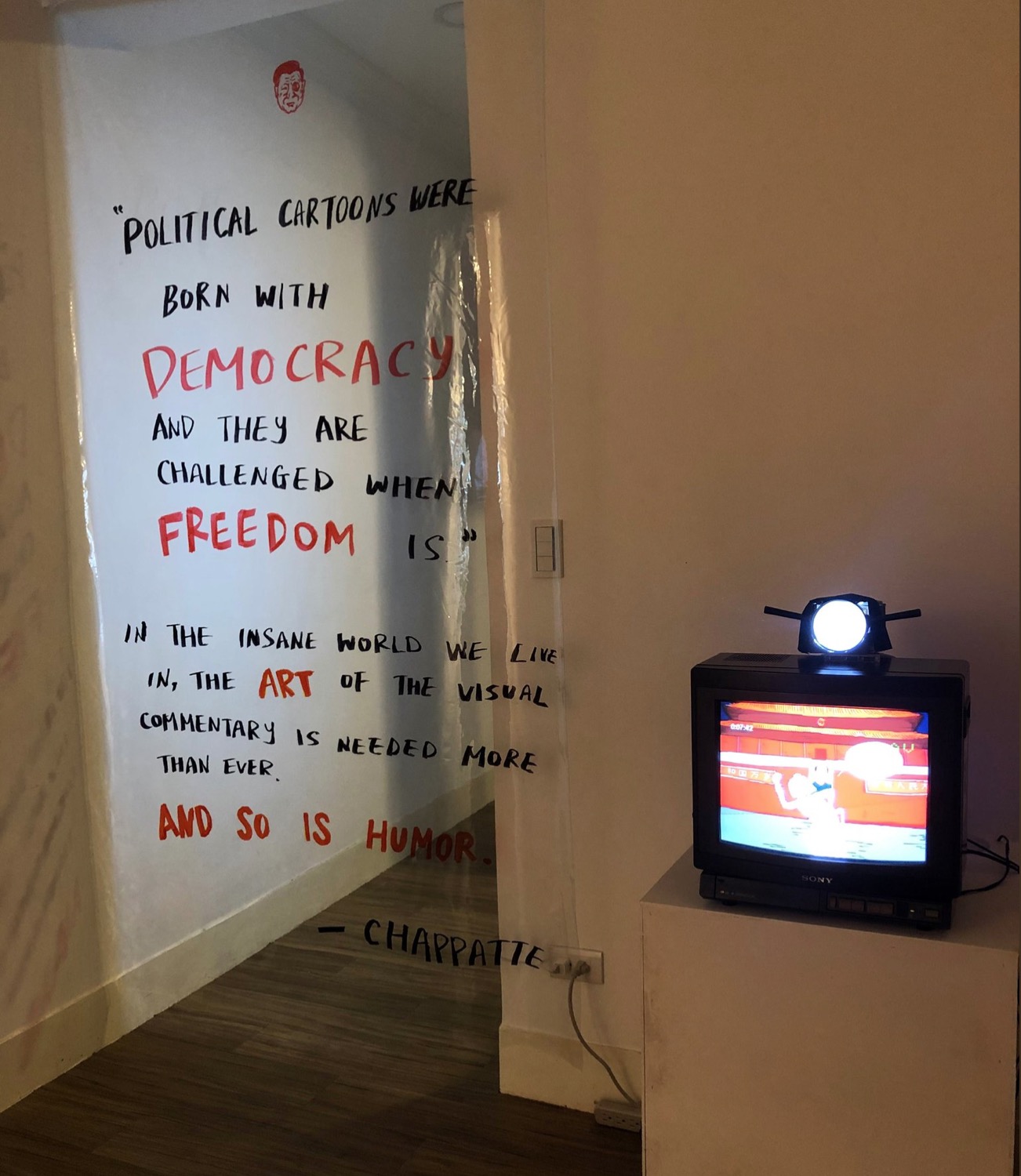 Spotted in "習捲天下 Xi is all over", an art exhibition in Taiwan, June 2019